Nirvani Bliss Blends
Exquisite Ayurvedic Essential Oils to Balance Body & Mind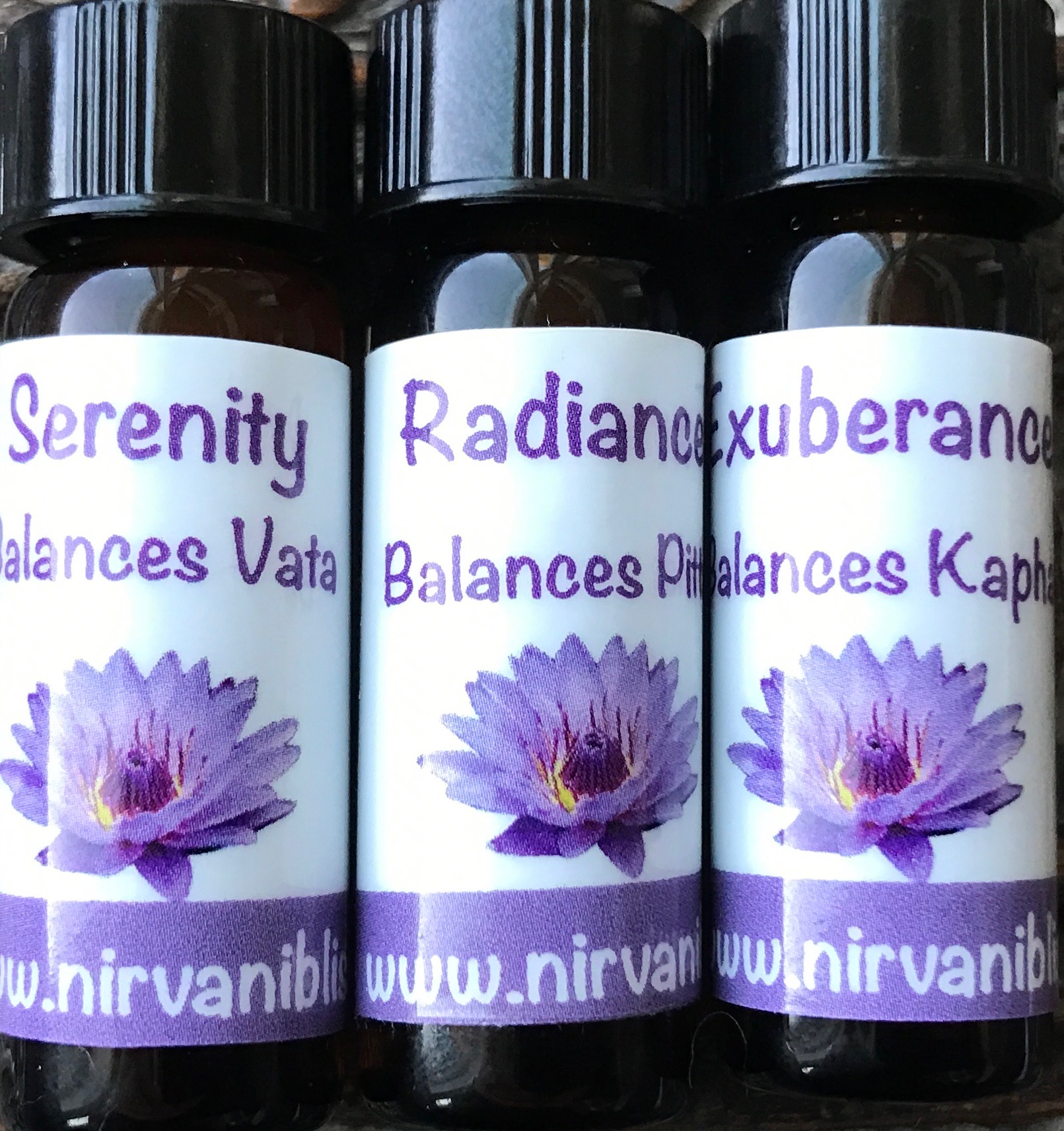 Bliss Blends set $50 + shipping
Available at our ETSY STORE!
Contact us for wholesale inquiries!
Exquisite Ayurvedic Essential Oils to Balance Body & Mind
As an ayurvedic wellness expert with over 20 years of experience these blends are the result of years clinical practice and experimentation with formulation. Please read Dr. Anisha's inspiration behind creating these blends!
Conveniently designed to carry- this beautiful box set fits in your purse when you are on the go, to use at work, while traveling, or on the road. Make aromatherapy part of your daily lifestyle to stay calm, rejuvenated, and balanced!
Ayurvedic collection- a boxed set of 3 essential oil blends to balance each dosha. Product purchase comes with paper box set to hold 3 amber glass vials- 1 dram each. Box comes in designer bag and includes informational educational color brochure. Makes a perfect gift!
SERENITY- Balances VATA (space + air)
Calming, Soothing, Grounding, Empowering, Enhances Clarity, Relieves Mental Fatigue, Treats Stress, Anxiety, ADHD, Insomnia, Trauma, Headaches
RADIANCE- Balances PITTA (fire + water)
Opens Heart & Mind, Cooling & Calming, Sensual, Euphoric, Enhances Meditation & Devotion, Improves Focus & Concentration, Treats ADHD, Anger, Irritability, Migraines
EXUBERANCE- Balances KAPHA (earth + water)
Energizing, Uplifting, Enlivening, Elevates Mood, Enhances Respiration & Immunity, Relives Mental & Physical Fatigue, Great for Depression, Sinus Headaches, Allergies
Disclaimer: Information on this website is not intended to diagnose or treat any disease or condition. Please consult with your medical doctor or licensed healthcare practitioner before using products if you are concerned. Discontinue use if there is skin sensitivity.
TESTIMONIALS
I love these oils! I could immediately tell they are super high quality, each blend unique and balanced in its own way, and so easy to bring with me wherever I go. They smell amazing! - Lizzy

I love the serenity and peace I feel with each inhale. - Dawn

I've been using these blends with my 3 year old daughter at bedtime and she instantly relaxes when we apply them. She loves deciding which scent to use each night and will ask for them if I forget. - Vanessa

These oils are so lovely and immediately enhance my mood!- Sheree

I love these essential oils and have already purchased 4 more as gifts! They are immediately soothing and uplifting! -Hallie

I love the convenient small size to carry around!- Linda

I love how thoughtful this product is/quick turn around on shipping too!! I've been looking for a HIGH QUALITY ayurvedic based essential oil blend for some time. But as you can imagine, its a more unique concept so I was thrilled to encounter this shop. I appreciate how there is a blend for each dosha <3 Plus Anisha kindly answered my question on why it is beneficial for me to have all three. Well worth the money! Thank you for this lovely product Anisha!- Nilly